---
Must See's / General / Fan Fiction / Writer's Resources / Multimedia / Artwork / David Duchovny / Gillian Anderson / Webrings / Purely Self-Serving Link
---
If you have a site you'd like me to include drop me a line -

---

If you only visit one X-File's site this should be it. All the info a Phile could want.
---







---
~Warning: Some Of These Sites Contain Adult Fan Fic~
Archives

---

More of a temporary archive, but lots of new fics each day.

Post-Eps

---

Recs

---

Not a rec site, more of a 'Do you know the name of...?' site. Wonderful place to find that fic you've been looking for.

Enigmatic Dr's Fanfic Favorites

Authors

---

Dantzi Jean has some great fics, a cool dustjacket service, and other goodies. The dustjacket for my fic 'Even Skinner' was made by her.
---

Main site for the wonderful IWTB fan fiction discussion group. Very friendly. And I'm not just saying that because I'm a member.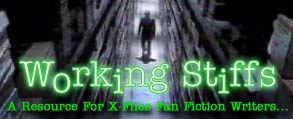 ---



---

This is a fantastic site with great artwork and some of my favorite music videos. Deej is also responsible for the stunning dustjacket for my story 'Not A Three Hour Tour.'

This site has a wonderful collection of intricate and beautiful artwork. It's simply fantastic. The collage on my fanfiction site is from here.

Definite must-see. The background on all my pages, my site banner, and a lot of the other graphics come from here.
---



---
---

---

This is my first site. It's about the mini-series 'The 10th Kingdom." It has nothing to do with The X-Files. I just wanted to share.
---
Here's a lovely banner you can use that Belle from the Mulder & Scully Art Gallery was kind enough to make for me:

Or, if you prefer, here's a gorgeous smaller banner you can use. It's also made by Belle:

Link them to: http://rhetta.8m.net/
---